Size chart
CLOTHING
Clothing conversion and size guide
Measurements (cm)

Size

Guide

Over-bust size

Waist size

Hip size

FR / ESP

UK

ITA

SOFT PARIS

83-86

61-64

89-92

36

8

40

S-L




S-M

ONE SIZE

87-90

65-68

93-96

38

10

42

91-94

69-72

97-100

40

12

44

95-98

73-76

101-104

42

14

46

L-XL

99-102

77-80

105-108

44

16

48

XL-XXL

103-106

81-84

109-112

46

18

50

107-112

85-90

113-118

48

20

52

XXL-XXXL

113-118

91-96

119-124

50

22

54

119-124

97-102

125-130

52

24

56
Over-bust measurement: measure around the bust and back in line with the nipples
Waist measurement: measured at the narrowest point, usually just above the navel
Hip measurement: measured around the widest part of the hips
BRA
Bra measurement and conversion
Measurements (cm/inch)

Bra size conversion

Under bust (cm)

Under bust (inch)

Taille (French)

Taglia (Italia)

Size (UK)

73-80

29-31

80

1

30

79-85

31-33

85

2

32

84-90

33-35

90

3

34

89-95

35-37

95

4

36

94-100

37-39

100

5

38

99-105

39-41

105

6

40

104-110

41-43

110

7

42
Cup size measurement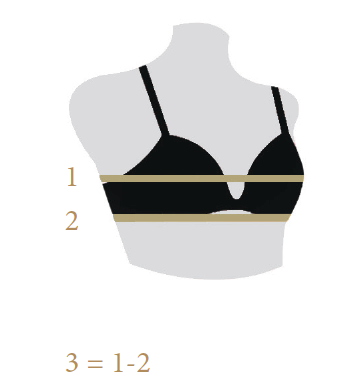 Over-bust measurement: measure around the bust and back in line with the nipples
Under-bust measurement: measure underneath the breasts, as high as possible
Cup measurement: the difference between the two sizes in inches reveals your cup size in the chart below
Over bust-under bust difference (cm/inch)

Cup

0-3

0-1

A

3-5.5

1-2

B

5.5-8

2-3

C

8-10.5

3-4

D

10.5-13

5

E/DD

13-15.5

6

F/DDD

15.5-18

7

G
Soft Paris size measurement
Story of O is an interactive 3-part role-play game for you and your partner to explore together. Step into the shoes of Olive and Sir Richard; a young Parisian fashion designer who falls in love with a rich and elusive older man. Together for only a year, their love is strong but Richard wants her to prove her love to him. The only way he will truly believe she loves him is if she fully and completely submits herself to him.
Sir Richard's step-brother owns a large Chateau in the countryside of France that specialises in the training of women into sexual submission and slavery. Eager for Olive to truly prove his love, he invites her to Chateau Chantilly. Upon accepting, she begins the three phase training into complete sexual submission.
The rules are simple. You will be granted access to the Chateau website and you will receive emails which will help you organise the three training sessions. If you decide to meet once a week, the game will last a total of three weeks, the last session extending up to a full weekend. Before each session, you will both receive a script to guide your actions, as well as a skills set document which contains all the knowledge you need for a successful evening.
Will Olive successfully complete the training and give herself completely and fully to her lover? That is for you to explore.
Our erotic game will have you relishing in the world of submission, domination and sensuality. You can expect to feel closer to your partner than ever before as you explore an entire new world and identity together.
Whether you are roleplay masters or barely beginners, this game will take you through a step-by-step structure complete with guides, rules and procedures to immerse yourself into your respective roles. Are you ready to test the limits of your sexual horizon?
PLAYFORIA - RECONNECT AND PLAY
Playforia is an answer to the need for couples to reconnect. Leave your daily worries and patterns behind and spend time together trying something new and exciting. Rekindle the passion between you by exploring your physical, sensory and emotional connection with this fun sexual role play game!
Reference: MODELWPLAY0002
Read more
Show less